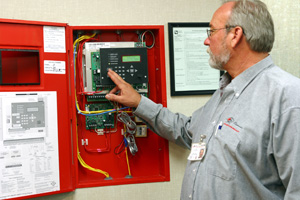 Your business is your livelihood, which means it needs to be protected just like your home. More than just safeguarding your property, however, it's critical to also offer safety and security to employees, as well as protection for any assets that are vital to the business. Commercial businesses demand a higher level of security—New Tech Security, LLC is here to offer it.
Since 1993 we've been the go-to provider for commercial security and access control solutions. Our capabilities touch a wide range of businesses and can be tailored to fit the needs of your unique operations. Whether you need CCTV and intercoms or comprehensive asset tracking systems in Magic Valley, we're ready to deliver. Some of our core systems include:
Video Surveillance Systems
Fire Alarm Systems
Card Access Systems
Intrusion Detection Systems
Wireless and Cellular Alarm Monitoring
Vehicle Tracking Systems
It's every business owner's worst nightmare to experience a fire. New Tech Security, LLC helps you stay on the front line of fire detection and alerting by inspecting and maintaining your life-saving systems to their fullest. All of our fire systems are designed by NICET Level 3 engineers and we always use NFPA-approved equipment and test reports.
Asset Tracking Systems
In the new-age world of cloud computing, many businesses need the security that comes with up-to-the-minute asset and vehicle tracking systems in Magic Valley, Treasure Valley, and Sun Valley. We provide asset tracking systems that enable you to monitor your fleets and any collateral you may be responsible for, so you always have a record to fall back on.
Servicing Any Brand
Our techs can install a wide range of top-level security system products, from trusted brand names like Honeywell, Rosslare and Silent Knight. In addition to retailing and installing these brands, we also take pride in servicing the maintenance and repair needs of any existing security system brands you may have. It's one of the ways we go above and beyond to protect our customers.
If your factory, retail store, office space or other commercial business in Jerome, Appleton, Jerome County, Magic Valley, or Twin Falls, ID requires new security and surveillance systems, we're here to help. Contact a New Tech Security, LLC professional today by calling 208-734-6100. From fire, burglary, cameras and keyless entry controls, to wireless and cellular monitoring systems, our expertise will keep your business safe and secure. We can also protect your home or healthcare facility with home security systems and central station monitoring services, so we have you covered!