We wanted to assure you that we are still here to help you in your time of need.
Please stay well, and don't hesitate to contact us!
Security Systems in Jerome, ID
New Tech Security, LLC is a 24-hour, full-service security systems company. We sell, install, service and monitor a complete line of security systems. For over 20 years, we have proudly served the security needs of commercial and residential properties throughout Southern Idaho.
Delivering Peace of Mind to Customers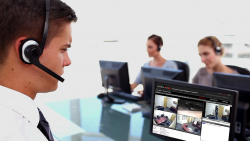 There's no substitute for the peace of mind that comes with safety and security. At New Tech Security, LLC, we specialize in bringing residential and commercial customers the products and services they can count on for complete peace of mind. Our expertise extends to burglar alarm systems, fire alarms, hold-up alarm systems, keyless entry systems, closed-circuit television systems (CCTV) and various other types of security and surveillance systems in Jerome, Appleton Magic Valley, Twin Falls, and Jerome County, ID. Our products are at the forefront of your wellbeing, affording you a vast range of capabilities that include monitoring, alerting and securing. From homes to businesses, our emphasis is always on keeping you safe.
Here at New Tech Security, LLC, the safety and wellbeing of our customers is an unrivaled priority. We are privileged to be chosen to protect you, your family, your home and your business from personal injury and property loss. It's why we always go the extra mile when delivering products and services. From helping you choose the right security systems in Jerome, to maintaining and repairing those systems for as long as you own them, we're your all-in-one security authority. Don't leave yourself vulnerable to life's many calamities—instead, make the call to New Tech Security, LLC. We'll do what it takes to deliver the peace of mind that's so important to your everyday life.
We're an Idaho state-licensed low-voltage contractor that's fully insured for your peace of mind.
Our wide scope of expertise is available to residential and commercial customers.
All of our fire systems are designed by NICET Level 3 engineers.
We provide customers best-in-class products from highly reputable brands such as Honeywell, Rosslare and Silent Knight.
We offer free estimates on all of our products and services.
Proudly offering burglar and fire systems, camera installation, and keyless entry to the following areas:
Boise, ID
Nampa, ID
Meridian, ID
Mountain Home, ID
Twin Falls, ID
Jerome, ID
Gooding, ID
Wendell, ID
Fairfield, ID
Ketchum, ID
Sun Valley, ID
Hailey, ID
Bellevue, ID
Pocatello, ID
Camas County, ID
Twin Falls County, ID
Jerome County, ID
and the surrounding areas.